21 October 2021
Psoriasis Awareness Week Supporters Pack Now Available
Download your pack and find out how you can get involved.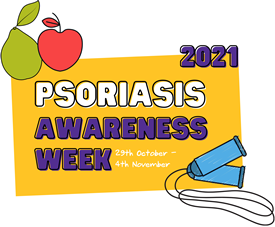 Plans are now well underway for Psoriasis Awareness Week 2021, which is taking place between Friday 29th October and Thursday 4th November.
During this week, we will work hard to raise awareness of both psoriasis and psoriatic arthritis and also of the Psoriasis Association and the services and support we offer to people with both conditions.
We are pleased to announce that this year's theme focuses on lifestyle factors that may be important to consider when living with psoriasis or psoriatic arthritis, including diet and exercise.
These topics are regularly asked about via our helpline and within our communities. Not only that, but lifestyle factors were identified as the number one psoriasis research priority as decided in the 2018 Psoriasis Priority Setting Partnership, and so we will be bringing you up to speed on what we know so far.
Throughout the week we will be asking psoriasis experts questions such as 'are lifestyle factors such as diet and exercise important in managing psoriasis or psoriatic arthritis?' and busting some myths in the process!
We want to get as many people as possible – including schools, workplaces, communities and health professionals - involved in this year's Psoriasis Awareness Week! In order to help you participate, we have designed a handy Supporters Pack for you to download for inspiration.
The pack contains information on all the ways you can get involved during Awareness Week: tips and suggestions for raising awareness online; attending one of the virtual events we have planned; taking part in the #PsoActive29 fundraising challenge; and simply how to join in with the conversation.
Click here to download the Supporters Pack
Help us to raise awareness of psoriasis during the week by sharing your own experiences too, using the hashtag #PAW2021.