Fundraising
There are lots of ways to donate or raise funds to help the Psoriasis Association.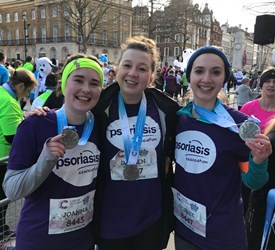 As a charity, the Psoriasis Association relies on people's kindness to spread the word about psoriasis. Holding events to raise awareness - and even raise some funds whilst you're at it - is a great way to do this.
See below for some great fundraising event ideas. If you're holding a fundraising or awareness-raising event then do get in touch with us, as we can provide t-shirts, posters and leaflets if you need them.
If you would like to donate to the Psoriasis Association, you can click here to donate securely online.
How To Fundraise For Us


If you would like to fundraise for us, just let us know when you have registered for your event and we will then provide you with support throughout your challenge.
To receive a copy of our fundraising information pack please email: mail@psoriasis-association.org.uk.
Ways to Fundraise From Home


We need your help more than ever to ensure we can continue to support people with psoriasis and psoriatic arthritis during this challenging time. With a little bit of creativity and an internet connection there are many ways you can raise money for the Psoriasis Association from home.
Take a look at the ideas below for some inspiration and then head over to either JustGiving to create your fundraising page.
Run a 10K
If your running event has been postponed, don't let all that training go to waste; why not run a 10k in your back garden? You could livestream it via Facebook Live and link to a Facebook fundraiser to encourage your supporters to tune in and make donations.
Quiz
Host a virtual quiz using a free live streaming service, such as Zoom, Houseparty or Facebook Live and ask your friends to make a donation to take part.
Teach a class
Do you have a talent such as drawing, painting or playing an instrument? You could hone these skills and help others learn something new by making tutorial videos or livestreams and asking people to make a donation in return. Similarly, you could try setting up a yoga class or creating exercise tutorials.
Plan a games night or tournament
Organise a live games tournament with your friends through Xbox live or PlayStation Network and ask for donations from players. Why not try to get your team to the top of the league on Fifa or see who has the best skills on Call of Duty?
Fundraising Event Ideas
There are many ways to fundraise for the Psoriasis Association. Whilst some people choose to take on physical challenges, others may decide to organise a social event or take on a personal challenge. Any way that you raise funds and awareness will make a difference and help people with psoriasis. Take a look at the ideas below!
For Foodies
Why not arrange a themed meal night and ask all your friends to bring a dish based on the cuisine of a particular country and make a small donation to join in? Or if you are a cookery show fan, and would like to make it competitive, you might want to plan a 'Come Dine With Me' challenge, where you and your friends plan a dinner party each and then vote to choose whose night was the best! Other popular choices for foodie fundraising include tea and coffee mornings, yummy afternoon tea, a cheese and wine night, the list goes on!
For Fun-Lovers
What's better than raising funds and awareness, but having fun at the same time? You could organise a mufti or fancy dress day at your school or college - charge everyone a small amount to wear their silliest outfit! Perhaps you could ask people to sponsor you to get in a bath full of baked beans, or have a sponsored bad hair day? Then there are always the 'giving up for a day' challenges... chocolate, internet, talking... Actually, perhaps those are less fun!
For Runners
Do you run for fun or to keep fit? Are you looking for a new challenge? A sponsored run could be great fun. You may know of a local event that you could join, or go to Find a Race and search for an event. If running is not your thing, then maybe you could do a sponsored walk in your favourite park or forest? To find a walk in your area you can visit Ramble On or check out Forestry England for public footpath routes.
For Cyclists
Cycling is an excellent way to get fit and to keep healthy with regular exercise. There are numerous cycle rides maintained by local councils in their parks, and cycle trails through the national Forestry England sites. If you would like to enter an organised cycling event near to you or around the UK check out UK Cycling Events or British Cycling.
For the Adventurous
Obstacle course events like Tough Mudder or The Wolf Run are held all over the UK, and involve racing through difficult terrain, such as woodland, water and mud to complete an obstacle course! So if you would like to test your physical strength, stamina, and determination, this might be the challenge for you!
For Daredevils
Have you got a particular fear that you have been trying to get over? Maybe you are terrified of heights, or petrified of spiders and would like a little encouragement? We are sure that all of your friends would love to sponsor you to see you face your fears, whether it is a bungee jump, holding a tarantula, or even eating your most hated food!
For Musicians and Music Lovers
If you are in a band, or you are musically inclined you could organise a charity gig to raise money! The money for tickets could go towards donations for the Psoriasis Association, and you would get to show off your musical talents. If you weren't blessed with vocal ability, then turn it into a karaoke night and get everyone else to do the performing.
For Gamers
If you spend time gaming anyway, then why not put your talents to good use and be sponsored to game for as long as possible? If you play online, then get your pals together and arrange an online marathon and see how long you can keep playing for!
For the Crafty and Creative

Homemade crafts can feel so personal, so if you are creative you can use your skills to encourage donations! You could make cards, decorations or illustrations to give to friends and family in exchange for a small donation. At Christmas you could make your own charity Christmas cards or offer to make personalised tree decorations.