Psoriasis Awareness Week 2023
Psoriasis Awareness Week 2022 ran from Saturday 29th October to Friday 4th November.
About

Thank you to everyone that took part in this years Psoriasis Awareness Week!
Psoriasis Awareness Week is an annual event that aims to raise awareness of psoriasis and psoriatic arthritis. This year's ran from World Psoriasis Day on 29th October until 3rd November and the theme was 'Talking about Treatments'.
How to treat psoriasis and psoriatic arthritis are understandably one of the primary questions asked via our helplines.
During Awareness Week, we looked at how people can achieve the best in psoriasis care. We heard from those who self-manage their condition as well as those under the care of a GP or a dermatologist.
Find out more about our Psoriasis Awareness Week 2023 activities below:
Supporters Pack

To give you all the information you need on how you can get involved during Awareness Week, we designed a handy Supporter's Pack for you to download for inspiration.
To download the Psoriasis Awareness Week 2023 Supporters Pack, please click here.
Digital Toolkit

You can still share your support for Psoriasis Awareness Week on social media by using our digital toolkit and the hashtags #TreatmentTalk and #PAW23.
Download our new 'What is Psoriasis?' leaflet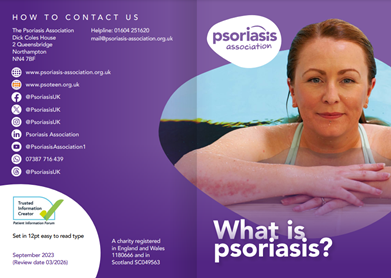 Click to enlargeTo coincide with World Psoriasis Day, we launched our new and updated 'What is Psoriasis?' leaflet.The 16-page booklet, entitled 'What is Psoriasis?', was put together by members of our information team to help support those who have been newly diagnosed with psoriasis and to answer many of the initial questions they may have,

The leaflet has been through a robust production process in line with the requirements of the PIF Tick, the only UK quality mark for trustworthy health information, of which the Psoriasis Association is accredited and includes images for the first time in response to user feedback.
You can download the leaflet here or please contact us for a hard copy.
'Achieving the best in psoriasis care' webinar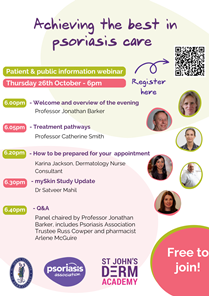 Thank you to everyone who attended our 'Achieving the best in psoriasis care' webinar with St John's DermAcademy on Thursday 26th October.
The webinar, which was chaired by Prof. Jonathan Barker featured presentations from psoriasis experts Prof. Catherine Smith, Karina Jackson and Dr Satveer Mahil, who gave an update on the mySkin project.
Psoriasis Association Trustee Russ Cowper and Pharmacist Arlene McGuire then joined the panel for the Q&A session which followed.
We are keen to share the sessions from the webinar, so all of the videos from the webinar are now on our YouTube channel; If you have any questions that weren't able to be answered on the night, please email them to mail@psoriasis-association.org.uk
Many thanks to all the presenters, panellists and everyone who attended for making this such a successful event!
Your Stories

For this year's Psoriasis Awareness Week we shared a number of real-life stories from some of our supporters discussing their experiences and talking about the treatments that worked for them. Have a read of Janine and Meg's stories below.
Janine's story
Janine's Story
For our first story of Psoriasis Awareness Week, we revisit Janine who has managed her psoriasis mainly through lifestyle change!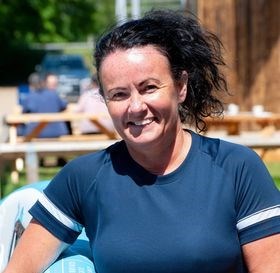 I was diagnosed with Psoriasis in 1997 at the age 22 and later developed psoriatic arthritis. It was like being on a rollercoaster for eighteen long years. I became overweight and inactive as a result of the debilitating condition.

I tried everything offered by my GP or dermatologist. I also went private for advice.
Natural treatments, diet and exercise have worked best for me, I have been clear for eight years including through covid.
I self manage my psoriasis with a healthy diet and lifestyle.
My treatments fit easily into my daily life – I drink high quality pure aloe vera first thing every morning to support my gut health and immune system. It works from the inside out, also helps to reduce inflammation. I take marine collagen to support my joints.
I don't have any active patches of psoriasis but if I get any dry skin I use a bee propolis cream topically.
I eat a healthy diet and limit treats but don't deprive myself.
I manage my weight through following body composition, this enables to maintain a healthy weight and track my overall health including muscle mass.
I'm very active and spend time in nature, hiking, SUP paddling and enjoy cold water therapy.
A regular at the gym for strength training, I'm 48 now and want to maintain healthy bones and joints as a woman at that time of life.
I don't miss the itch! I am grateful to have found what works for me.
My advice to someone attending their first GP or dermatology appointment is to go prepared with a list of questions. Be open and honest if it's affecting your mental health. The Psoriasis Association is an excellent resource for information & support. They also have a Facebook community that can be useful, you are not alone.
Meg's Story
Meg's Story
From GP prescribed treatments to self managing tips, Megan shares her experience with how she treats her psoriasis this Psoriasis Awareness Week!
When were you first diagnosed with psoriasis/psoriatic arthritis?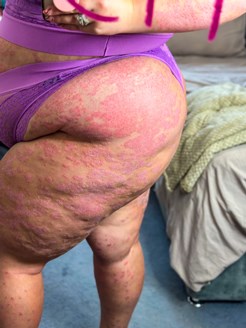 Click to enlarge
I was first diagnosed with psoriasis when I was 9 years old (17 YEARS AGO!) and we think it originally flared due to a throat infection. However, psoriasis does run in my family genetics so it was more a case of "when" rather than "what if". I have had many episodes over the last 17 years. Each one comes back more aggressively making it more difficult to deal with each time.
What treatment has worked the best for you?
When I say I have tried everything I tried EVERYTHING! Over the years the best things that have worked are Enstilar spray that I got from the doctors after I was featured on BBC Three's documentary "Skin" but unfortunately I became immune to it this episode. That's the thing about psoriasis, it is brave so it will build immunity to treatments (thank goodness there are so many options!) In the hospital, the PUVA bath and UVB treatment worked well on me and that was a visit to dermatology three times a fortnight through university. The natural treatments I have found that work best are sun and sea which sadly we don't have much of here in Wales! When I returned from Tenerife my psoriasis had cleared and that's when I wished I could just be prescribed a yearly holiday! To really kick this episode I am now on a course of immunosuppressants. I am on Adalimumab injections and I believe taking them in hand with other natural treatments is helping my flare to clear!
How do you manage your psoriasis now?
The true answer is I don't. Due to the nature of my job as a social media influencer, it really affected my ability to make content. Not only was I red and extremely itchy but I lost a lot of confidence as well. When I was younger it never really affected me but as I've grown up and have begun dating it does affect my confidence massively and this flare-up really spun me. Thankfully I do have a wonderful team of doctors and dermatologists. They are so understanding and helpful. I think once you are in a flare up it is hard to imagine life without one but you just have to keep pushing and believing it will happen for you. My friends and family have been so supportive and sympathetic during this time even though none of them suffer from it. They have helped me realise it doesn't change who I am and that it will pass in time.
How do you fit your treatments around your everyday life? When do you find it best to apply/take your treatment?
I take my natural treatments every morning as part of my morning routine and I inject my immunosuppressants once every two weeks. This makes it far easier to manage than having to visit the hospital 3 times a week (like I did when I was younger) and I've had very fast relief.
How do you combat the itch?
This is so hard! I took weekly dead sea salt baths for as long as I could to try and soothe it as well as using body butters. My psoriasis isn't sensitive to products like this so I just tried to keep it hydrated. I also invested in a back scratcher for those hard-to-reach areas or rubbed my back on the door frames like Baloo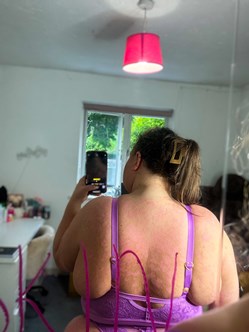 the bear in the Jungle Book!
What advice would you give to someone who is about to attend their first GP or dermatologist appointment?
Be honest and tell them everything! The way I go into my appointments has changed as I've gotten older as it's affected my mental health more. Take photos that you can show, I did this recently and my dermatologist could see how bad and how quickly it had flared up. Do your research on treatments! I was able to skip a treatment as I knew it wouldn't agree with me so I went in with the facts and got put on treatments that worked for me!
Try to stay positive, there will be bad days and then there will be months without a flare-up. It is one of the hardest things I've had to deal with both physically and mentally but each time I have gotten through it. You will get through this too!
Rob's story
Rob's Story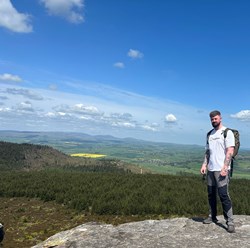 I was diagnosed with psoriasis at 21. Dovobet was the first topical I was prescribed and it worked, but I found the effects to be very temporary and for anyone who's had the pleasure of Dovobet you'll know yourself, it's a awful stuff. If it wasn't on me it was everywhere else. At my worst I remember having to shower up to 4 times a day just to get it off and packing spare clothes to take with me anywhere because the thought of it being on my clothes and someone pointing it out was just another thing that drew attention I didn't want to deal with.

After a couple of years I went back to the Dermatologist and asked to try something else, I was prescribed Enstilar. I actually had a lot of success with Enstilar for many years, it kept things at bay for a lot longer but as before, still very greasy and instead of using it as prescribed this became more of a crutch when my flare ups were really bad just to take the anger out of them.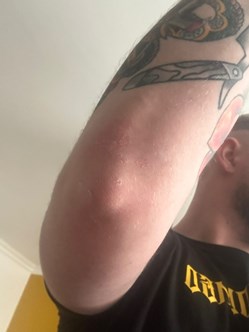 Click to enlargeI wasn't diagnosed with Psoriatic Arthritis until I was 27. I was prescribed oral Methotrexate. It helped but it wasn't fantastic, coming to terms with being "disabled" was hard work and so was taking daily medication just to live a somewhat normal life to try and get the pain and fatigue under control. I was finally diagnosed methotrexate injections about a year ago to manage my arthritis and this was a game changer.

These days my psoriasis is barely visible and in some areas has disappeared completely. for the pain and fatigue, I've now been prescribed Amgevita alongside my Methotrexate which has helped that little bit more. A lot of how I manage these days is down to acceptance. I've had to adopt the mindset of not letting my condition define the life I want to live and I'd urge anyone else to do the same where possible. Be kind to yourself. Life is a little harder sometimes, there's definitely some bad days now and again and I do have to plan ahead more than I used to, but I'm still going to do everything I enjoy!
Raising Awareness in the Community
We have been very pleased to be able to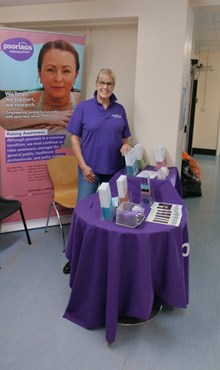 hold our information stands out in the community this year as part of Psoriasis Awareness Week.

These events provide a welcome opportunity to chat to members of the general public, hear people's real-life experiences first-hand, and provide our range of information resources to those who may have needed them. We have been giving out copies of our new 'What is Psoriasis?' leaflet too.
Last Thursday we had a fantastic visit to the ASDA Superstore, Derby Road, Spondon, Derby DE21 7LW where we met lots of people and distributed a lot of our resources. Yesterday we held a successful event at the Dermatology Department at Northampton General Hospital.
If you missed us yesterday, we will be at Northampton General Hospital again on Friday between 9-4pm. Please come and visit us there.
If you have held an information stand to mark Psoriasis Awareness Week, please do send us your photos. We'd love to see them!
Donate, raise funds or become a member securely online
With your help, we offer good quality, reliable and independent information and advice. We raise awareness of psoriasis and work with key health officials on strategic issues. Your donation will help us to continue this vital work.
Find out more here.