07 September 2021
The Psoriasis Association announces £1 million investment into BSTOP study
The Psoriasis Association is making a major large scale £1 million investment over 5 years into the BSTOP study to address research questions that matter to people with psoriasis.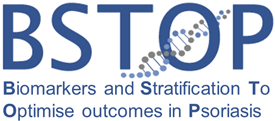 Huge advances have been made in the scientific understanding of the molecular events that cause psoriasis, and with this has brought many new, and highly effective treatments. The Biomarkers and Stratification To Optimise outcomes in Psoriasis (BSTOP) study – set up 10 years ago using crucial funding from the Psoriasis Association – has made key contributions to these advances.
This UK-based, large scale, 60 centre study now involves more than 7,000 patients with severe psoriasis. These individuals generously provide their clinical information along with samples such as blood and skin which have been used to generate genetic and other data profiles, that are vital to ongoing large scale national (e.g. PSORT) and international (e.g. BIOMAP and HIPPOCRATES) research efforts. Collectively, this research aims to provide clinicians and patients with information to ensure people with psoriasis receive the right treatment at the right time, and early enough to prevent problems such as psoriatic arthritis.
This major new investment, in collaboration with the Guy's and St Thomas' NHS Biomedical Research Centre, will enable this work to continue. The study population will now include different psoriasis phenotypes and severity, and include real-time, self-reported information on environment, lifestyle, severity (including photo capture) and impact. Recruitment will continue through the network of participating dermatology centres throughout the UK. As a new initiative, people with psoriasis will be invited to enrol directly through a bespoke, secure, online platform via links promoted via existing social media networks, PsoProtectMe and the Psoriasis Association to become 'psoriasis citizen scientists'.
This approach will significantly increase scope, scale and quality of the BSTOP dataset which will be used to address research questions that matter to patients (such as those identified in the James Lind Alliance Psoriasis Priority Setting Partnership) including how lifestyle factors influence psoriasis severity and remission and the underpinning molecular mechanisms, so leading to new strategies for effective treatment.