10 February 2021
Silkis Ointment due to return to stock
The vitamin D-based topical treatment returns after a temporary supply issue.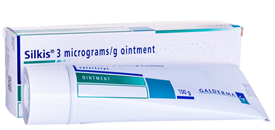 In December 2020 we were made aware that some of our members had been having trouble obtaining the vitamin D-based topical treatment, Silkis Ointment (Calcitriol). We contacted the manufacturer, Galderma (U.K) Ltd, who advised that Silkis Ointment was temporarily out of stock.
In early February 2021, we contacted Galderma for an update and they advised that Silkis Ointment will be available to order again in mid-February 2021.
If you have any questions or would like further information, the manufacturer can be contacted directly either by phone on 01923 208 950, or by email at info.uk@galderma.com.
You can find more information about currently unavailable treatments here