16 May 2022
Eucerin Intensive Cream & Lotion discontinued
New formulations of both products have been launched, but are not available on prescription.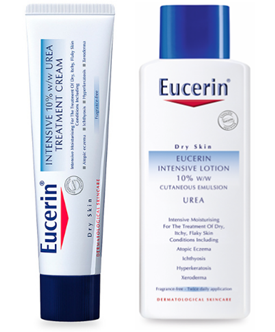 In April 2022 we contacted Beiersdorf UK, the manufacturer of Eucerin Intensive Cream and Lotion, to enquire about the availability of both products following reports from one of our members that they had become difficult to obtain.
Beiersdorf told us that, due to the closure of the manufacturing site that produced both products for the UK market, both Eucerin Intensive Cream and Eucerin Intensive Lotion have been discontinued.
Instead, Beiersdorf has relaunched the products with new formulations, under the names Eucerin UreaRepair ORIGINAL 10% Urea Cream and Eucerin UreaRepair PLUS 10% Urea Body Lotion. However, these two new products have been registered as 'cosmetic' rather than as medicines which means that, unlike the previous Cream and Lotion, neither Eucerin UreaRepair ORIGINAL 10% Urea Cream or Eucerin UreaRepair PLUS 10% Urea Body Lotion is available on prescription.
Beiersdorf apologised for any disappointment that this discontinuation may cause and told us they recognise that the circumstances and frequency of use of emollients differ greatly by individual. As such they recommend that anyone who requires an emollient on prescription for their condition speak to their GP or Pharmacist.
If you have any questions or would like further information, Beiersdorf can be contacted directly either by email at consumer.relations.uk@beiersdorf.com, or phone on 00800 49 40 1900.
You can find more information about other currently unavailable treatments here.