14 May 2022
Cocois Ointment 40g returns to stock
After more than a year-long absence, 40g quantities of Cocois Ointment are available again.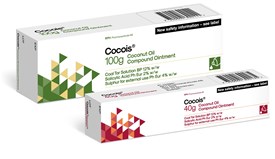 In February 2021 we were made aware of a supply issue with the coconut oil compound ointment, Cocois. We contacted the manufacturer, RPH Pharmaceuticals AB, who confirmed the product was unavailable in both 100g and 40g quantities at the time.
Since then Cocois Ointment 100g had returned to stock, but Cocois had remained unavailable in 40g quantities.
In February 2022 we reported that the return of Cocois Ointment 40g had been pushed back to April 2022 due to transportation issues.
In May 2022, we contacted the manufacturer for a further update on the product's availability. RPH confirmed that, after more than a year-long absence, Cocois Ointment 40g is now available once again.
If you have any questions or would like further information, the manufacturer can be contacted directly either by email at customer.care@recipharm.com or phone on 0845 023 0467.
You can find more information about other currently unavailable treatments here.