28 July 2016
Enstilar - New Vitamin D and Steroid Foam Launched
From the manufacturer of Dovobet comes the new foam formulation, Enstilar.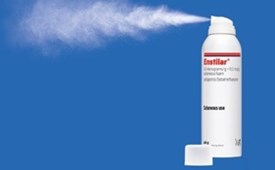 The first combination foam spray for psoriasis has recently been launched in the UK. Enstilar is a combination of calcipotriol (Vitamin D) and betamethasone dipropionate (potent steroid), which is also found in the commonly-used Dovobet ointment and Dovobet gel. This is, however, the first time the combination has been made available in a foam formulation.
Everyone with psoriasis is different, and we know that what works for one does not necessarily work for another. Similarly, we all have different preferences and routines. As such, a wide variety of types and formulations of topical treatments are needed for people with psoriasis, and so a new way of using an established treatment is welcome.
Enstilar is only available on prescription, so if you are interested in trying the treatment or learning more, do discuss with your doctor.
You can find out more about the different available treatment options for psoriasis here.