25 August 2016
Curatoderm Supply Issues Resolved
The Vitamin D-based topical treatment is available again after a long absence.
There has been further good news regarding the availability of topical treatments, as another product, Curatoderm (Tacalcitol), that has been unavailable for many months has overcome its supply difficulties. A statement from the manufacturer, Almirall, said: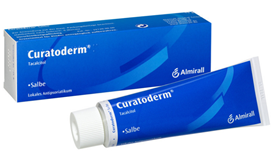 'As you may know Curatoderm has been out of stock since November 2015 and this was due to a Regulatory issue concerning the active substance. We are delighted to report that this has now been fully resolved and that Curatoderm will be available for sale in our PreWholesalers Alloga Limited from the week beginning 15 August 2016.'
If you need any further assistance in relation to Curatoderm availability, please contact Almirall's Customer Service Department on 020 7160 2500.
You can find more information about currently unavailable treatments here