21 December 2021
Caring for your psoriasis this Christmas
We've put together some tips to help you look after your psoriasis this festive season.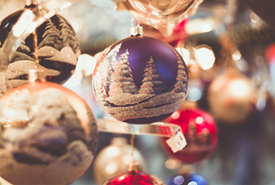 We know there will be some uncertainty around Christmas plans for many people this year. However you will be spending the day, we hope you find these tips helpful for keeping your psoriasis in check and feeling confident this Christmas.
Over the festive period it can sometimes feel as if all routine melts away, so, planning when you will use your treatments ahead of time can be helpful. You could set a reminder on your phone for when you want to apply them.
Christmas is well known as a time of year for overindulging and while you should enjoy yourself, it is also worth remembering that having too much unhealthy food, drinking too much alcohol and smoking may make your psoriasis more likely to flare, so try to be mindful of your triggers.
Make sure you stay hydrated and drink plenty of water, particularly if you plan to have a few alcoholic drinks over Christmas and New Year.
December is a very busy month which can be tiring with shopping and social events. Feeling run down or stressed can be bad news for psoriasis, so getting adequate time for rest and recuperation is key. Remember it is ok to say no and take time out for yourself!
If you are going out over the festive period and are feeling anxious about your psoriasis being on show, you could wear something which covers the visible patches. Alternatively, you may want to consider using body camouflage or body foundation which can help to disguise psoriasis and may make you feel more confident.
If you have scalp psoriasis it may be helpful to wear your hair up, as this will make it more likely to stay in place resulting in less psoriasis coming loose. Lighter colours can also aid in disguising fallen flakes, or you could try something shiny, sequined or patterned.
If you're feeling anxious or nervous about social situations, whether due to your psoriasis or something else, try talking to a family member or trusted friend so they can know how to support you. Remember to treat yourself with kindness.
If you would like any further information, advice or support regarding psoriasis or psoriatic arthritis in the run up to Christmas, please contact our helpline, either by phone on 01604 251 620, email on mail@psoriasis-association.org.uk or WhatsApp on 07387 716 439. Please be aware that we will be closing for Christmas on Friday 24th December at 12pm, and so our helpline will be open until then.
We wish you a wonderful Christmas.